This is where your child becomes a confident Deep Water swimmer, developing all 4 strokes and learning essential Water Safety skills. Great Teacher to child ratio at 1 teachers to 12 children max.
Our Shark lessons take place every Saturday from 9.00am to 6.00pm.
To book please email info@splashtastic.ie.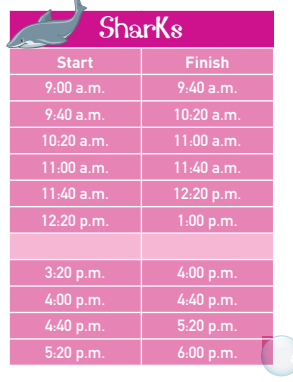 To book your childs place in any of our swimming lessons please email info@splashtastic.ie. Before you book please click on the 'swimming levels' link and use this as a guide to decide which class you should book your child into. Please note that early booking is essential as there is limited availability in each class.
Phone: 085 1052803 Email: info@splashtastic.ie